Italian Seafood Restaurant • Live Music Nightly
We are pleased to welcome you to the Seahorse!
Holding true to the tradition of quality and originality the Tuscan coastal cuisine blends the passion for intense flavors and aromatic hints of the classic regional recipes, with the freshness and spontaneity of the seafood preparation popular in the Italian Riviera. The names of the menu may seem familiar, the descriptions intriguing but nothing prepares you for the surprising and pleasant immersion in the tastes and flavors that you will find in our dishes. The products are fresh and locally gathered the selection seasonal, the preparation always new and, exciting the service courteous and professional, the ambiance inviting and warm.
About the Chef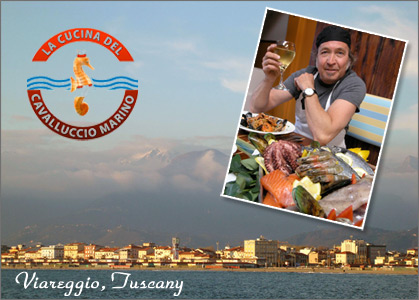 Seahorse owner Mauro Dosolini was born in the Tuscan seacoast town of Viareggio, known for its night life, restaurant scene, and carnevale. Coming from a family with several generations dedicated to the food and hospitality industry, young Mauro worked summers in his father's butcher shop until his parents took ownership of a modest hotel on the coast. It was there that Mauro's mother taught her secrets of food preparation – a knowledge evident in his menus today. Mauro fell in love with Sausalito in the year 2000, and finally settled into what is today called the SEAHORSE, at the waterfront, creating one of the Bay Area's finest venues for live music. Here at last, Mauro's passion for Tuscan cuisine, wine, coffee and music all come together in beautiful harmony.
Located in beautiful Marin County in the North Bay by the water in Sausalito. Our restaurant specializes in fine Italian seafood. Complete your vist as you cross the Golden Gate Bridge by going to nearby Muir Woods or viewing the Bay Model. Also serving the San Francisco Bay Area, Mill Valley, Corte Madera, San Rafael, Tiburon, Belvedere and nearby cities.